Still trying to catch up and get better about blogging. Here are some random cute pictures of the boys.
Alan had a great time at his first Easter egg hunt! AJ's hunt was at night with a flashlight so we didn't get any pictures.
Sleeping on Daddy :)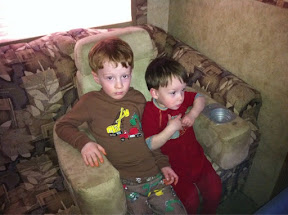 Watching a movie in the trailer.
I got up and left my computer on the couch for about 30 seconds and this is what I saw when I turned around.
For once AJ actually wanted to get in on a picture!
Then I got him to actually pose for a picture by telling him I wanted a picture of the airplane he just made. He has been enjoying using his scissors a lot lately.
AJ loved this place! We had lots of fun at a friends birthday party. AJ didn't stop moving and Alan got a nasty head bonk while showing me he has no fear of heights or jumping from them. And then he tried to do it again.
This was the best excuse ever to not get the laundry folded.
Snuggle boys!
I still have several more posts to catch up on but at least I got some of the random cuteness posted! There is so much of it it's hard to know where to start.
- Posted using BlogPress from my iPhone