Here are some more random bento meals I have done for the boys. They love each one!
This was dinner from tonight. Sesame chicken over rice with corn and zucchini. Unfortunately they didn't eat much of it.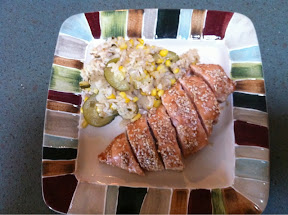 This was Travz plate. It looked pretty so I took a picture. He and I loved the chicken.
This was a lunch in one of our new Lock and Lock boxes from Grandpa. They are great! Peanut butter and honey sandwich, frozen peas and corn (they love it fresh from the freezer!), cottage cheese and apple sauce. I stuck an animal pick in each box just to add a little something because it seemed like a pretty boring meal. They ate just about every last crumb though.
MTM (muffin tin meal). BBQ sauce, home made peanut sauce, frozen veggies (cooked this time) and Mickey Mouse chicken nuggets. They were thrilled with this meal!
These were the first meals served in these new bento boxes from Grammy. Unfortunately about five minutes into the meal AJ knocked one of the lids off the table and it broke. We use these boxes almost every day though. They are a great size for a snack or breakfast. Fake grass hair, sushi roll eyes, home made corn muffins with ham, cheese and onion in them and strawberry fortune cookies in little decorative baskets for lips. My mom helped with the layout ideas for these. I love how each one has it's own personality. The boys seem to like when the meals look like faces the best. The corn muffins were wonderful. We all loved them and they didn't last long!
- Posted using BlogPress from my iPhone