I had a very wonderful day today that started with AJ sneaking into my room to wake me up with birthday kisses. He told me that today was the very best birthday day in the whole world! Then he told me to stay in bed and he was going to make me a special yummy birthday surprise thing.
It was an English muffin with butter, honey and red sprinkles, a carrot cake muffin that my wonderful Mama made, and an orange that Daddy helped him peel. Then all three of my boys brought it in to me and sang happy birthday. It was a perfect day right from the beginning!
Then my Mama came over and brought me a wonderful Better Then S*x Cake. And this amazing gift...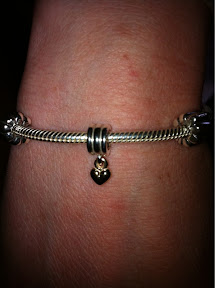 It's a Pandora Bracelet. I just saw one on a great
blog I follow
and totally fell in love. This is a starter bracelet with two spacer beads and a very sweet gold heart charm. My mom always tells me that I am her heart. I hope to find special charms to represent important people and events in my life. It will be a bracelet filled with memories. And for right now I am very happy with it just as it is, until I find the next perfect charm.
Then when my mom left, my Joey came over to surprise me and was surprised to find that he had missed my mom. He stayed to visit and eat dinner with us.
And my wonderful Hubby brought home my very favorite butter chicken and naan bread for my birthday dinner. And then insisted that birthday girls shouldn't do dishes!
Now I'm going to go end the day by curling up with Trav and watching Freaks and Geeks. It's been a great day!
Thank you so much to everyone who sent me cards, messages, texts and phone calls today. I am feeling very loved and spoiled. Thank you for making today so special.
***I know I have been bad about blogging again. I had been posting at night while sitting in Alan's room while he fell asleep. He doesn't need me to sit with him anymore so now I need to find a new place in my day to make sure it gets done. I'm hoping to do several catch up posts in the next few days.
- Posted using BlogPress from my iPhone